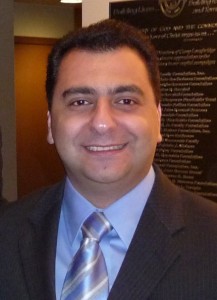 Meet our Therapist
Dr. Rimoun Hanna, DPT graduated from New York Institute of Technology in 2007 with a doctoral degree in Physical Therapy. He began his physical therapy career working at Saint John's and Saint Francis' hospital in Tulsa, Oklahoma where he specialized in rehabilitation of orthopedic and neurologic conditions with the symptoms of acute and chronic pain. In 2010, he moved to New Jersey and worked with athletes and sports-minded individuals and focused on pain management, post orthopedic surgeries and mentoring students and therapists.
In 2013, Dr. Hanna founded Ignite Physical Therapy & Wellness Center in Bayonne, New Jersey. It is a unique setting of patient-centered rehabilitation facility that aims at bringing relief, hope and restoration to the person as a whole; body, mind and soul.
Our vision is "Health without Limits" and our mission is to walk the extra mile to meet every patient's need.